Raw Fruit & Herb Soup
Raw Fruit & Herb Soup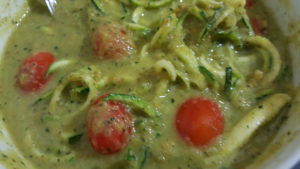 The other day while still on this 22 day vegan god ki ambrosia feast I was thinking of what to make with the fruits and herbs that were available. Next thing you know, the idea of raw vegan soup came into mind which is what you see here.
You're probably wondering what the heck is in here and how is soup made out of fruits possible. It's simple if you have a cook background while being in the Navy. So a brother took his chef background to chef up.
What you see is simple and tasted like if heaven had a flavor LOL. All I did was add one squeezed lemon juice, cucumber, squash, avocado, and spices in the blender with water. After putting it all in the bowl added zucchini noodles and cherry tomatoes. That is the story of how I ascended in love 🙂
Enjoy the view.
Eat fruits and stay true to you.
Website:
http://www.javoskigriffith.com
For New Vegans:
http://www.vegankai.com
Free Vegan Smoothie Recipes:
http://bit.ly/aphrodisiacsmoothierecipes
Connect on Social Media:
INSTAGRAM: http://instagram.com/javoskigriffith
FACEBOOK: http://www.facebook.com/javoskigriffith
TWITTER: http://www.twitter.com/javoskigriffith