Vegan Quinoa Taco Salad
Vegan Quinoa Taco Salad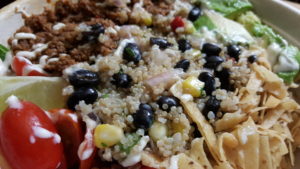 How sexy does this meal look to you?
I almost cried tears of joy with every bite because it was the first vegan comfort food that I've had after this 22 day vegan god ki ambrosia feast. For those that want to find out the ingredients and vegan restaurant this came from then click here to locate the title quinoa taco under the salad section.
The woman at the register taking my order took notice of my astrology hoodie sweater and was trying to guess my zodiac sign. It's funny because when people meet you for the first time and guess your zodiac sign from the impression they're getting is really your rising sign and not your sun sign. But, they think they're guessing the sun sign lol. Her guest was Leo, Pisces, or Aquarius.
The answer is Sagittarius is my rising sign, however I do have Neptune and Uranus both in the first house which shared those two signs' energy but because they're in the first house is why she got that impression. The Leo vibe that she sensed probably came from me having the first house ruler in the fifth house which means that even though I have no planets in Leo I'll have Leo attributes because of that fifth house energy.
Do you see how astrology and vegan food mix? LOL
Eat fruits and stay true to you 🙂
Website:
http://www.javoskigriffith.com
For New Vegans:
http://www.vegankai.com
Free Vegan Smoothie Recipes:
http://bit.ly/aphrodisiacsmoothierecipes
Connect on Social Media:
INSTAGRAM: http://instagram.com/javoskigriffith
FACEBOOK: http://www.facebook.com/javoskigriffith
TWITTER: http://www.twitter.com/javoskigriffith