Spicy Vegan Mac & Cashew Cheese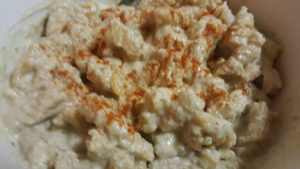 So the other day cashews and mac with cheese were on the mind. Went online to the oracle knowledge, aka google, and found chickpea/lentil spirals.
May not be macaroni but close enough gosh darn it lol. So, I was thinking of all the vegan cheese alternatives which led me to cashew cheese. Unfortunately, a lot of the cashew cheese recipes didn't vibe with me until I decided to magically create my own version.
What's in my version?
I pretty much made the cashew cheese into the sauce version which pretty much included adding about as much water as cashews in the blender with two bananas, sea salt, and one squeezed lemon. After the grande finale of mixing everything together in a bowl, I sprinkled cayenne pepper on top and it was a blissful taste worth eating once a week.
Why?
Because a great thing should be tasted once in a blue moon lol.
Would you eat something like this?
Stay true to you and it fruits.